" I read like 5 chapters and then SHUT IT!!!!!
I am truly honest when I say that I had never left a book in the middle before and this book was....umm how do I put it? Umm ok...boring, the hero dies in the first few chapters, first Rick Riordan's book that is utterly (umm) disappointing yadda yadda yadda.

I was immature and reckless then.
I absolutely loved it. It helped me survive a week of school. xD
The ending was a bummer. I really like Alex Fierro and Jack the Sword.

I absolutely love the sarcasm and humour in the book.

"Etiquette tip: If you're looking for the right time to leave a party, when the host yells, "No one leaves here alive," that's your cue."
"Sam's body language looked pretty stiff. I was too far away to hear, but I imagined her conversation with Alex was something like:
Sam: Awkward.
Alex: Awkward, awkward.
Sam (nodding): Awkward, awkward, awkward."

Sam and Alex's relationship was... what's the word? Yeah! Awkward!!!

Trouble did seem to chase them wherever they went.

"I'd been chased by Valkyries. I'd been chased by elves with firearms. I'd been chased by dwarves with a tank. Now, lucky me, I got to be chased by giants with giant bowling balls."


I felt pretty bad for the goats. It was a goat that died in the beginning of the book. Wait! Or was that a sheep. I'm confused. But I liked them too. :D

"We need our goats!" I yelled.
I waded through the crowd until I reached our chariot. I grabbed Otis's face and pressed my forehead against his.
"Testing," I whispered. "Is this goat on? Thor, can you hear me?"
"You have beautiful eyes," Otis told me."


Thor is such a dumb ass. I can't believe this is the original Thor.

Thor announced his well-reasoned conclusion. "We must kill them all !"
Blitz raised his hand. 'Ah, Mr Thor, even if we could get you close enough to Thrym, killing him wouldn't help. He's the only one to who knows exactly where the hammer is.'
'So we torture him for the information and then kill him! Then I will retrieve the hammer myself!"
Alex muttered, 'Nice guys.'
'Sir', Sam said, 'even if Thrym told you exactly where the hammer was, how would you get it back from eight miles under the Earth?'
'I would break through the Earth! With my hammer!'
We waited for Thor's mental gears to run.
'Oh,' said the god. 'I see the problem. Curses!'
"The girl is right, Vidar signed. Time is wasting. "Listen to brave Vidar, girl," said Thor. "Loki's capture can wait for another day. Right now we should be celebrating the return of my hammer!" That's not what I said, Vidar signed."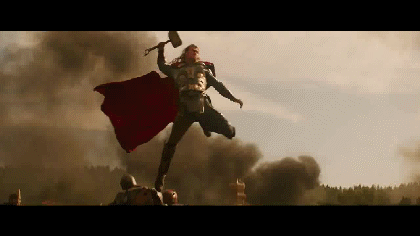 Also, I don't really get Randolph.

"THIS IS WHY I HATE FAMILY REUNIONS. You always have to face that one uncle you don't want to see—you know, the one who pops out of a nutshell and demands a sword."


This is a great ending and will be a great beginning (for the next book)

"Annabeth smiled. "I don't know the ocean very well, but my boyfriend does. I think it's time you met Percy."
" AttWaq said.

"Ok, wow. What can i say about this book? Sheer perfection, brilliant, wonderful! Is this suppose to be middle grade? Because it did not seem like that at all; which that was the main factor for me to love it even more. I wish Rick would write an adult fantasy series. What makes this book stand out is the maturity and the development of the characters. It did not felt like his previous books whatsoever; Rick wanted to focus even MORE on the bond between friends, being there for each other physically AND mentally which made the quest less overwhelming in a good way (you know what i mean). #Blitzstone_forever! If i say more i am going to spoil it and i don't want that.
The plot was sooo engaging, fast paced, hilarious and sarcastic, as always; had me laughing out loud so many times. It totally sucks you in and takes you away from the crappy reality. Cheers to you Rick for making me feel that way. The chapters were not super long which i find it pretty refreshing.
I love this series sooo much! Oh, and what an ending!! What made me really excited is that it takes place at the same time as the trials of apollo woohoo! We also got to see Annabeth again and we had a few mentions of Percy; yaas! I sooo hope we get to see Annabeth and Percy in the next book! 
What a fabulous ride has been a huge step up from book 1. I cannot wait to read the next book! You guys should start reading the series if you haven't already. Big happy sigh.." John Papadopoulos said.

"You Keep Using the Word Help. I Do Not Think It Means What You Think It Means.

I didn't think it could be possible, but this book was even better than the first one. Shocking I know. Rick Riordan is THAT good. Obviously.

Like for the first book, I don't want to talk about the plot because if I did, I wouldn't be doing you a favour.

I actually don't have much to say in this review that I haven't previously said in my review of The Sword of Summer . . . but I'm going to talk about Alex Fierro, our new character and my Queen.
She's transgender and gender-fluid and I love her to death. She's not afraid to set straight someone who obviously has no respect for her, she tells things the way they are and if you're not happy with that, then screw you. She's someone I aspire to be like, she strong, brave, kind — yes she is, even though she doesn't want to admit it — and though she could kill me with her bare hands I want to put her in a blanket like a burrito and make sure she's never hurt again.
I also love how speechless Magnus is when he's next to her, my sweet summer son is so in love it's both embarrassing and the best thing you'll ever witness.

I'm so lucky to have read this book with two of the most wonderful persons on this little earth, and I cannot wait for us to read the third book the moment it comes out!

4.75" Romie said.

" Este se convirtió en uno de mis libros favoritos del autor (y eso es MUCHO decir porque tiene una competencia bastante ajustada). ES TAN ÉPICO ‹3 " Gus said.

""At this point, most people would have thrown themselves down on the ground and given up hope. And by most people, I mean me."

Okay, I'm sold. I loved the first book but I was not as enthusiastic about it as Percy Jackson. This book though, was amazing and definitely turned me into a little fan of this series. A book that have characters from all origins, with different religions, gender representations and characters with disabilities. But the best thing about it ? The books doesn't make it the only thing about these characters. Their story and involvement in the story do not revolve only around it and the narrator doesn't make a bid deal out of it.

I love all the characters of the story and this is rare. Alex, Sam and Hearthstone are my big favourite but I love Blitzen and Magnus so much too. I'm really happy we got to see more of Hearth's past and of Sam's relationship with her family, Amir, and her religion. I loved that not once the book made fun of her religion, or made use of common misinterpretation or judgements. This book (and the characters) was as open-minded as you could be. Alex Fierro. She/he became my favourite in this book. A gender-fluid character, a shapeshifter (how cool is that), uses a garrot as a weapon, and is an angry little cupcake. I don't need more than that. This sister team is the best. The friendship between Sam and Magnus is also immensely beautiful and I'm so happy the book decided to show such a positive and totally platonic friendship between a boy and a girl. I won't even talk of the relationship between Blitz and Hearth.

The story was as fun and full of action as every other Rick Riordan book that I've read. Like always, I love that I'm reading and learning some stuff about North Mythology and North Gods at the same time. You can obviously feel that you are reading a book which is aimed at middle age children first, but it never really did bother me, the same way it never did with Percy Jackson. And I definitely feel like this is the kind of book I would want my children to read. Amazing message of open-mindedness, a fun and exciting story and some learning. What more could you ask for.
" Camille ☼ said.

"THE REVIEW

Why this book?

I really liked the first book

What I thought




Rick Riordan did it again another amazing book! I just can't wait to get my hands on them and devour all the Rick Riordan goodness!!! Can I just say how much I love the bromance between Blitz and Hearthstone! I just love them!!! One thing I didn't like though Sam and Amir drama,I just don't care! Magnus is really growing on me though, I wasn't so sure about him in the first book. That being said I just loved the hell out of this book definitely a must read (view spoiler)[One last thing why is Rick bringing Percy into this series? It's totally unnecessary (hide spoiler)]" Tabby said.
"
You understand there's no such thing as a little death prophecy, right?


I really wish I could give this five stars (this is Rick Riordan's book after all!) but if I sit down, take a deep breath, and think about how many of these chapters Riordan's reused from his Percy Jackson & the Olympians series, I can't. I loved the characters, and the hilarious adventures Riordan writes about, but it's getting to be too much. Sure, there were some amazing, brand new scenes. But the rest? All reused with maybe a couple of tweaks to it.

Don't get me wrong, the book was very good. So much better than The Sword of Summer. And the last chapter got me super pumped for the next book, which is coming out in 2017 (!!!!!)

Despite my complaints, I will always, always read Rick Riordan's books. So keep writing, Rick!" Dana said.

" ✨Full series review here! The best way I can describe this series in one sentence is: a more diverse and woke version of Percy Jackson and if that doesn't want to make you read it then I don't know what will. " ⚔ Silvia ⚓ said.