"


The third book in the Harry Potter series is by far the best of the first three. We get introduced to Sirius Black early on in the book, and I have to say, he's my favorite character to date in the series. Getting more answers about Harry's parents and past, you can tell this book sets up so many things for future books.

Sirius and Remus were the best part of the book for me. I could see where THIS would be the book that hooks so many HP fans. Don't get me wrong, the first two are good, but there was something special about this book. Something that makes me want to jump into book 4 asap. This world is magical and yes, the books are so much better than the movies (which I've seen multiple times) and I'm so happy I'm reading them! 5 stars!" Christy said.
" I don't understand why they use time travel in this one,and not in the other books.That would have made things a lot easier. " Etnik said.
"The third HP adventure serves to bring the likable Sirius Black into the story and get Gryffindor their Quidditch Cup, but the story and action was still far less gripping than the first novel. I thought that Lupin was an interesting character, but less spectacular than the previous two teachers against the Black Arts. I recall reading this for the first time nearly two decades ago when it came out and losing enthusiasm for the Harry Potter universe. However, I read it again so that I can read the rest with my son (he refused to read 2 and 3 with me because he felt they were the weakest books in the series and I have to say I agree with him). Nonetheless, one must read this story for the long game if one wishes to make sense of the rest. I am still a bit baffled by the whole switcheroo that Prang & Co did leading to the death of HP's father and mother, but perhaps they will return to that later.
On to The Goblet of Fire and the Quidditch World Cup!" Michael Finocchiaro said.
"
"I solemnly swear that I am up to no good."


Re-read - Only the Quidditch scenes earned five stars from me. This book is EPIC. Suffice to say that Harry Potter and the Prisoner of Azkaban is the best of the series. The story gets darker and more complex than the previous books. Harry, Ron and Hermiome don't chase the clue this time, they have to find a way to guard their lives from the most horrendous prisoner, Sirius Black.


"Harry Potter was a highly unusual boy in many ways."


Harry grows up through this book, he tries to learn new magic and overcome his fear. Dementors are the symbol Rowling created to stand for your fear in the deepest of your mind, and it quite works for me very well, this creature makes the book gloomy and grey. I loved the scene when (view spoiler)[Harry is fell from his broom. (hide spoiler)]" P said.
"I know that many of you out there haven't gotten around to reading Harry Potter and the Prisoner of Azkaban. Much like Umberto Eco's Foucault's Pendulum, Germaine Greer's The Female Eunuch and Lucifer's worldwide bestseller The Holy Bible, you own a copy, it gathers dust, but its never been read. You've been thinking about it, though. You see it there on the shelf and you wonder, "Is this book for me?"

The following checklist will tell you all you need to know about Harry Potter and the Prisoner of Azkaban's suitability for you. The more checkmarks you have, the more you need to tackle this wonder of modern literature.

1. Do you have Daddy issues? ✓ or ✘
2. Has a creepy middle aged man been sleeping with you for years, unbeknownst to you? ✓ or ✘
3. Does the full moon make you anxious? ✓ or ✘
4. Have you ever gorged on chocolate to combat depression? ✓ or ✘
5. Do you find there just isn't enough time in the day? ✓ or ✘
6. Are you misunderstood? ✓ or ✘
7. Do you have an overactive sense of justice that gets you into trouble? ✓ or ✘
8. Do you break rules whenever you can? ✓ or ✘
9. Do you scoff at personal danger, especially when it gets in the way of your fun? ✓ or ✘
10. Are you a dog lover, or would you like to be one? ✓ or ✘


1-2: You'd probably rather be reading Finnegan's Wake, The Book of Mormon or Sally Dick and Jane
3-5: Skip it and watch the movie.
6-8: Time to dust off that copy and give it a whirl.
9-10: Put your existential crisis aside. Shave your moustache. Take a day off work, and read this book. It won't change your life, but it'll be like reading about your dream self.

Do as you will. " Brad said.
"
"You think the dead we love ever truly leave us? You think that we don't recall them more clearly than ever in times of great trouble?"

*Guess which character said the above quote. (view spoiler)[ Dumbledore, duh! (hide spoiler)]" Aj the Ravenous Reader said.
"This - is my review of Harry Potter and the Prisoner of Azkaban.... It's a great book - but not without its…problems….

D'you get it? It's because every goddamn sentence of this book contains either a dash or an ellipsis. (That's one of the...problems….)




https://emmareadstoomuch.wordpress.co...

I'm debating whether to unleash the anti-Snape rant that's been building up inside me for a decade now. I think I'll wait until his supposedly redeeming backstory is revealed. What book is that in? Anyway, just his extensive presence in this book made the whole thing less fun for me.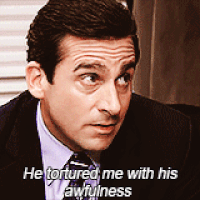 I feel about Snape the way Michael Scott feels about Toby. But I digress. My main thing with this book is that Rowling can be kind of...bad at fitting the parameters of the universe she created. That's understandable, since it's immense and so impressive, but there's also little common sense things that get under my skin. (This would be under "general stupidity" if I hated this book - which I absolutely don't.) I wanted to be having a great time, but instead I was caught up in the little mistakes.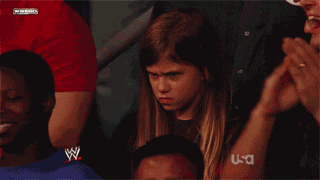 Some examples: There's just no way McGonagall would have given Hermione the Time Turner. No way. I get the significance of the thing to the plot, and it's a really creative and entertaining concept, but my girl Minerva would NEVER have handed that over. This is the woman who will shut any student down, take Harry Potter's broom, deduct points from her own team, throw shade at Trelawney...what I'm saying is she's a one hundred percent badass. And she's a badass who exudes said badassery with the well-being of all Hogwarts students in mind. But I'm supposed to believe she put herself out there, petitioned the government, and presumably put in effort to convince her fellow faculty just so Hermione could take a purely overwhelming number of classes? Nah. She would have recognized it as unnecessary (Hermione never even gives a reason beyond "wanting to" for her overloaded schedule) and a huge pressure (workload's making a thirteen year old cry all the time and lose the ability to sleep). In other words, Minerva would have shut that shit down in a hot Texas minute.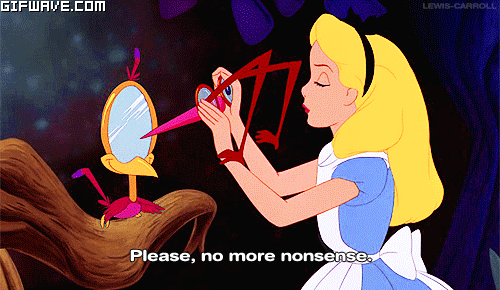 But wait - I have more examples! Lupin tells us that when he was at Hogwarts, they went through an INSANE amount of work to get him off the grounds when he ~underwent his transformation~. Keep in mind this whole thing is for one. Effing. Student. They put in a magic, violent tree (the infamous Whomping Willow), dig a tunnel that is presumably at least a mile or two long, and mess with (build?) a shack-like shelter. This is way, way, way too much to ensure that a single student can attend the school. But even suspending your disbelief there - why would you put a werewolf inside a WEAK, SHUT UP BUILDING to protect people? One, don't put a rabid monstrous creature in a house, because two, he can break out of it and now the inhabitants of Hogsmeade are at risk. Also, putting in the Whomping Willow? Are you kidding me? It's a danger to the students! And so is building a passageway in/out. There are so, so, so many more problems than solutions here.




And here's the most wild, laughable one for me. At the end, Sirius Black reveals that it was him - HIM! - who bought Harry Potter the Firebolt, hundreds-of-Galleons price tag and all. This is INSANE. Since Ron had earlier mentioned that it would have been impossible for Black to buy a broomstick, J.K. is so kind as to reveal how he did it in his letter to Harry. He says he sent Crookshanks (a f*cking cat) to the Owl Post, had him order the broomstick under Harry's name, and had it charged to his own bank account at Gringotts. HAHAHAHA, WHAT?! You're telling me a goddamn cat walked into a post office, conveyed the information that Harry Potter was ordering the most expensive broom on the market, and charged it to the most wanted man in Britain's account without consequence? Like everyone was just like, yeah, okay, we didn't really want to find him anyway? We won't bring this up to the Ministry or Potter or anything? Jeeessssuuuuussss. Also, how did my guy have that much money in his account anyway? How is his account even open?




Also, I know this is well-discussed, but there is just so much conflicting information about how many people attend Hogwarts. It drives me insane. I'll never be satisfied with one answer, because there are always a million other pieces of evidence that conflict.




The sheer confusion of the story relayed in the Shrieking Shack was also so confusing. Like, I get why there had to be a dozen f*cking pages of Black/Lupin begging the story to be told and Hermione/Ron/Harry essentially covering their ears and singing "Walking on Sunshine," but they couldn't at least have told the story with some semblance of organization once they finally got there? I mean, Jesus.




On the other hand, characters. Hermione is still killin' it - Time Turner, baby! And slaying those exams! But she did have less time with the squad (fighting) and a lot of scenes where it was just like, "Oh. Yeah. Hermione. Uh, she's...doing homework over there." Plus Neville was not really included, like, at all. But Lupin was introduced, and he's one of my favorites! But Snape was here as hell and I hate him so much. But no Colin Creevey or Lockhart or Dobby! But Trelawney and Malfoy and Pansy. But Sirius! But mainly he was villain-ing it up. Oh well. It's a real 50/50 in this one.




Still, it was definitely enjoyable. Like, I read it in pretty much one sitting, and I haven't done that in a whileeee. I missed doing it. And this was so, so much better than the second book. So this is so hard to rate! I am having a really hard time here, you guys.




And my absolute favorite aspect of these books - which was missing in the second volume - was one hundred percent present and accounted for. I'm talking a look into the world, baby! We get Hogsmeade, we get an entire fortnight of Diagon Alley, we get a bunch of discussion of the school and the classes. Even the bad parts, like Azkaban. Ugh! I could read a series' worth of books just on the world, I swear.




So, bottom line: In some ways I liked this as much as the first, but it definitely had more problems. I am looking forward to continuing my reread, and hopin' I find just as much of the world and even more of the good characters. Goblet of Fire, I expect to see you soon!" emma said.
"ENGLISH (Harry Potter and the Prisoner of Azkaban) / ITALIANO


Sirius Black's escape from Azkaban prison is on every wizard's lips. Not even the dreaded guards of the prison, the Dementors, managed to keep in a cage the wicked wizard, who probably want to meet again his master, Voldemort. But to do that, firstly he must kill Harry Potter, the only one capable to stand up to Voldemort... Meanwhile, the new school year is about to start at Hogwarts School of Witchcraft and Wizardry, and Harry, Ron and hermione will become acquainted with two new professors...
Compared to the previous, the third volume of the series is the one that is richer in twists and turns. I'm reading the saga of Harry Potter to my daughter, when in the evening she goes to bed, and in this "Harry Potter and the Prisoner of Azkaban" a little tragedy happened. When we got to "The kiss of the dementor" chapter, just hearing the title my daughter (6 years old) was so upset by what it might happen that she required that I read that chapter alone, and just then telling her what was going on by omitting the scary details. Apart from this hiccup, the reading was neat and clean. It is evident that the playful and carefree tones of the first two adventures give way to dark colors. After all harry is growing up, and its way of seeing things is supposed to change as well. Rowling takes us in the maturation process of the most famous little wizard of the world using the same plot device of the previous volumes: the teachings of Headmaster Dumbledore, the clashes with Malfoy, the bickering with Hermione, the conflicts with Professor Snape. I do not know if in the near future I will continue to read to my daughter the Harry Potter saga, or if I will wait she grows enough to read it alone to avoid upsetting her again. Never mind. I will go on because now it is not possible for me to stop reading, with the pleasant awareness that there is no healthier addiction of this one. "Get high" yourself too.
Vote: 10




La fuga di Sirius Black dalla prigione di Azkaban è sulla bocca di tutti i maghi. Nemmeno i temuti guardiani del carcere, i Dissennatori, sono riusciti a tenere in gabbia il malvagio stregone, che si dice voglia riunirsi al suo padrone, Voldemort. Per farlo però dovrà prima eliminare Harry Potter, l'unico che fino ad ora è stato in grado di tenere testa a Voldemort... Nel frattempo, alla scuola di magia e stregoneria di Hogwarts sta per cominciare il nuovo anno scolastico, ed Harry, Ron ed Hermione faranno la conoscenza di due nuovi professori...

Rispetto ai due precedenti, il terzo volume della serie è quello più ricco di colpi di scena, e di conseguenza quello con il ritmo più serrato. Sto leggendo la saga di Harry Potter a mia figlia quando la sera va a letto, ed in questo "Harry Potter e il Prigioniero di Azkaban" è successa una piccola tragedia. Arrivati al capitolo "il bacio del dissennatore", al solo sentire il titolo mia figlia (6 anni) è rimasta così turbata da quello che sarebbe potuto accadere che ha preteso che lo leggessi io da solo, e che le raccontassi quello che succedeva omettendo i particolari spaventosi. A parte questo intoppo, la lettura è continuata liscia. E' evidente che i toni giocosi e spensierati delle prime due avventure lasciano il posto a sfumature a tratti cupe e goticheggianti. D'altronde Harry sta crescendo, e si suppone che cambi anche il suo modo di vedere le cose. La Rowling ci accompagna nel processo di maturazione del maghetto più famoso del mondo utilizzando gli stessi espedienti narrativi usati negli altri volumi: gli insegnamenti di Silente, gli scontri con Malfoy, i battibecchi con Hermione, i conflitti con Piton. Non so se nell'immediato futuro continuerò a leggere a mia figlia la saga di Harry Potter, o se aspetterò che cresca abbastanza da essere in grado di leggerseli da sola per evitare adesso di turbarla. Non importa. Io andrò avanti perchè per me non è più possibile fermarmi, con la piacevole consapevolezza che non esiste dipendenza più salutare di questa. "Drogatevi" anche voi.

Voto: 10

" Luca Ambrosino said.